An appreciation for nature's gifts, inherited through the ages in
this land surrounded by a lush green environment, and the highest quality spring water.
In the clean and crisp air, Tenjaku is quietly being created.
大自然に抱かれたこの土地に、
脈々と受け継がれる自然の恵みへの想いと、上質の天然水。
澄んだ空気の中、今日も静かに天雀は造られています。
PRODUCTION ENVIRONMENT 01
OVERLOOKING MT FUJI,
SURROUNDED BY NATURE'S RICHES
Tenjaku is created in the city of Fuefuki, located in the eastern part of the Kofu Basin in Yamanashi Prefecture. This fertile land encircled by soaring peaks, with the Chichibu mountains rising to the north and the Misaka range to the south, is renowned as Japan's top peach and grape producing region. Looking towards Mt. Fuji and the Southern Alps, it is a place blessed with boundless nature, with verdant forests, beautiful orchards, hot springs, and crystal clear streams.
富士山を望む、
豊かな自然に囲まれて
天雀がつくられる笛吹市は、甲府盆地の東寄りに位置し、北は秩父山系、南は御坂山系から連なる山々に周りを囲まれた肥沃な土地で、桃・ぶどう日本一の郷として知られています。富士山と南アルプスを望み、緑豊かな森林や美しい果樹園、温泉や澄み切った水辺など、悠久の大自然に恵まれた場所です。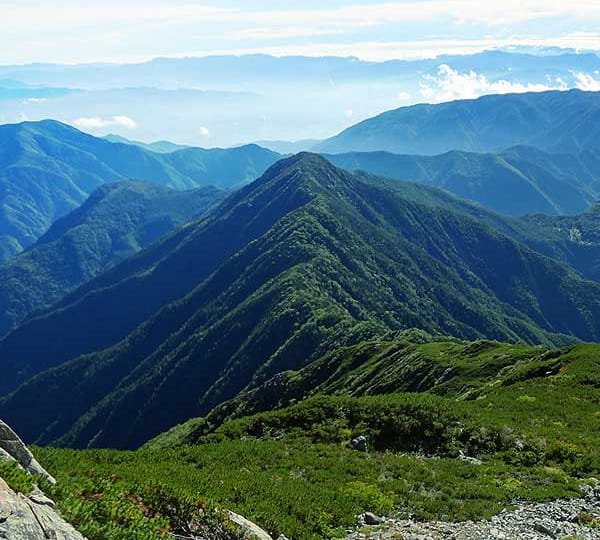 PRODUCTION ENVIRONMENT 02
THE FAMED PURE WATER OF FUEFUKI
Water can be said to be the "soul" of whisky.
Fuefuki sits atop an alluvial fan system into which the excellent natural water from the Misaka mountain range flows.
It is from 250 meters below this land that pure underground water is drawn. Filtered through porous volcanic rock, it is perfect for dilution when creating blended whiskies.
Velvety-smooth, slightly alkaline in nature.
The moderate mineral content present in the water creates a whisky that is smooth and easy-to-drink and a well-balanced flavor.
清らかな水に恵まれた名水の地、
笛吹
ウイスキーの魂とも言える"水"。笛吹は扇状地で、御坂山系の良質な天然水が流れ集まる地。その地下250mから汲み上げられる地下水は純粋で、多孔質の火山岩に磨かれた、ブレンドの割水にはうってつけの水です。軟水でやわらかく、弱アルカリ性。適度なミネラル分が、スムーズな飲みやすさとバランスのとれた風味を作り出します。